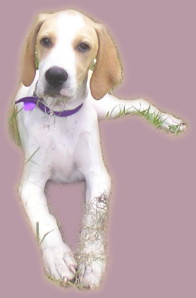 AKC Name:Lucidity's Duchess Anastasia

Call Name:Anastasia (Annie)

Nicknames: Annie, Annie Bunny, Annie Moose.

Birth Date: April 19th, 2003

Breed: Pointer (aka English Pointer)

Color: Orange and White

Likes: Sunbathing, run around, play with dogs,
go to the beach, go to the park, treats, toys,
Maggie's bed, swimming, playing in the pool,
cuddles, chewing, stealing towels and tissue papers.

Doesn't like: Baths, tooth-brushing, nail clipping, being alone. Little loud toddlers..(very scary!)

Tricks/Commands Learned: Sit, lay down, stay, and go potty on command, give paw, sit pretty, heel (working on it), drop it, leave it, go get it (toy, etc), give kisses, and come (finally! lol).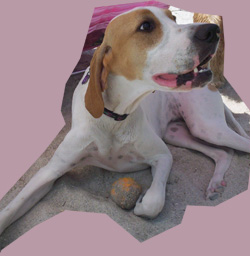 Annie is a sweet affectionate girl, these past few months have been a big change for her!
She is much more obediente, she is a true companion, and does what mommy or other people tell her most of the time.
She is a cuddle bug, she loves to be held like a baby, and give the ever so popular Pointer hugs.
Annie's a good girl, she is a big baby!